Today I'm going to show you Mikulov, a small city near the border with Austria. You would enjoy beautiful view and nice white wines that are so nice to Japanese.
Access to Mikulov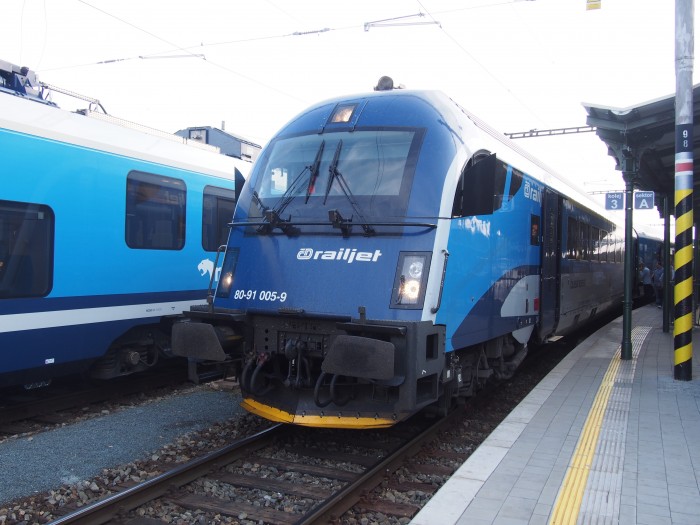 I recommend train tour, because you don't have to run for next platform for transferring many times(it takes only one transferring ). Go to (Břeclav) station first,where international trains start for Austria. Start first train trip to Znojmo station,then transfer change the line that take you to the area of Molavia. Dropp off at(Mikulov na Moravě) station. 4 hours from Plague and 2 hours from Vienna.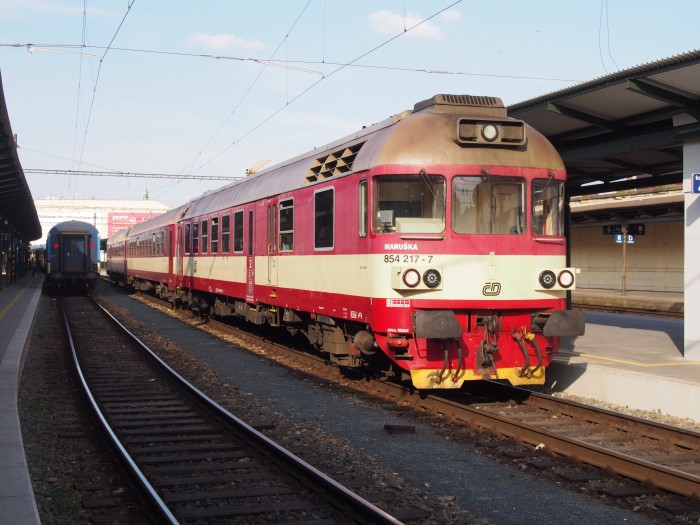 From Břeclav to Mikulov, every 2 hours. If you have time long enough for quick sightseeing at Břeclav station, enjoy Břeclav! Don't get bored awaiting.
Seeing peace from "Holy height"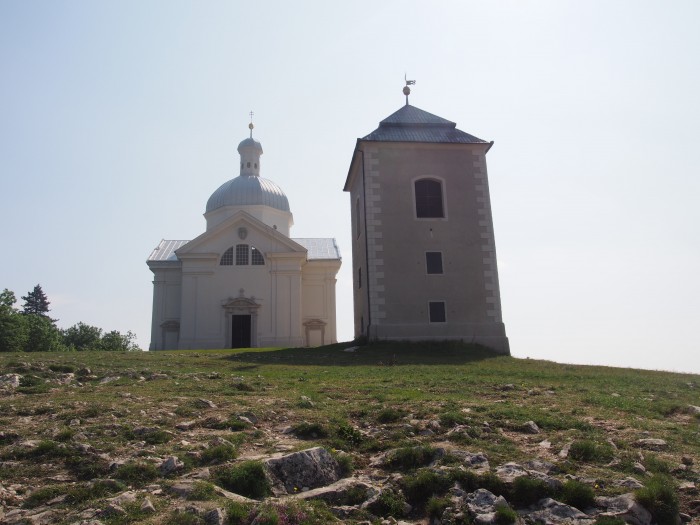 I recommend to go to the spot called "Holy hill" first. Although it would take about 20 minutes to clime, it's easy to walk on the whole course. The small chapel welcome you! It was May, but wasn't cold. I enjoyed walking, hearing birds sing and the weather was lovely.
This church on the hill is "Saint Sebastian Church", which was built in early 17th century in baroque style.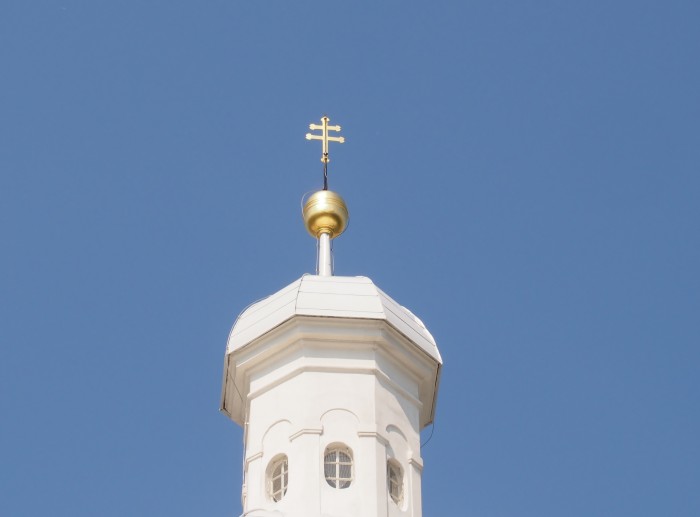 It has an unique-shaped cross, however it's not rare in churches in Europe, even if in Catholic Churches.
Pretty attracting Japanese tourists is the view from Holy hill. Zoom in, then you would realise that the lots of lands are drown differently. Here is Czech, Austria is over there.  The little town on the sight you have is in Austria.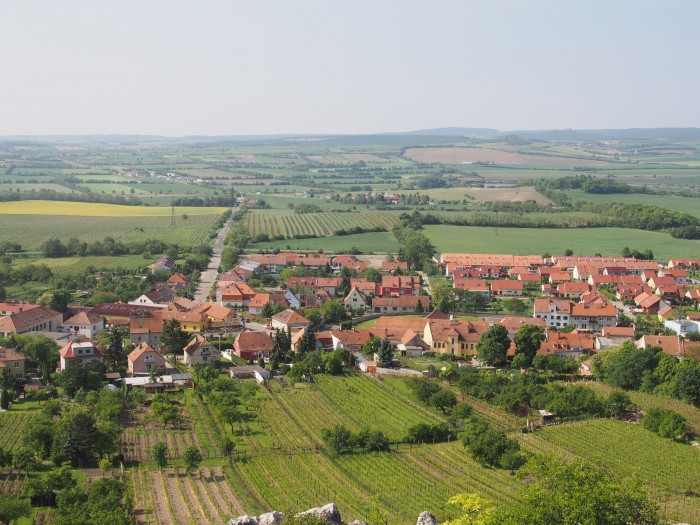 After "Schengen agreetment", transferring the border between Czech and Austria is free, however the border was intense barrier until 1990s, because one side (Austria)belonged to capitalism bloc and the other (Czech) socialism bloc. After the peace agreement, the place changed from the zone of intense fences to pastoral neighbouring towns.
A castle that has the biggest wine barrel in Czech.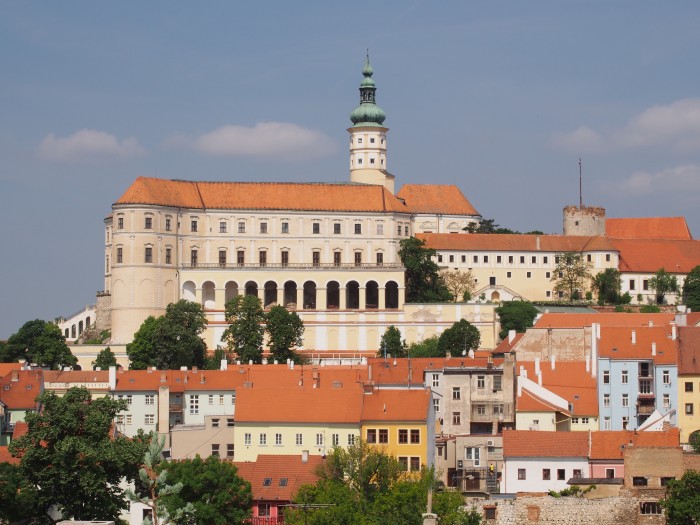 Mikulov has beautiful castle as well as other cities. The castle on the photo is built in baroque style. This castle is owned by House of Diechrichstein.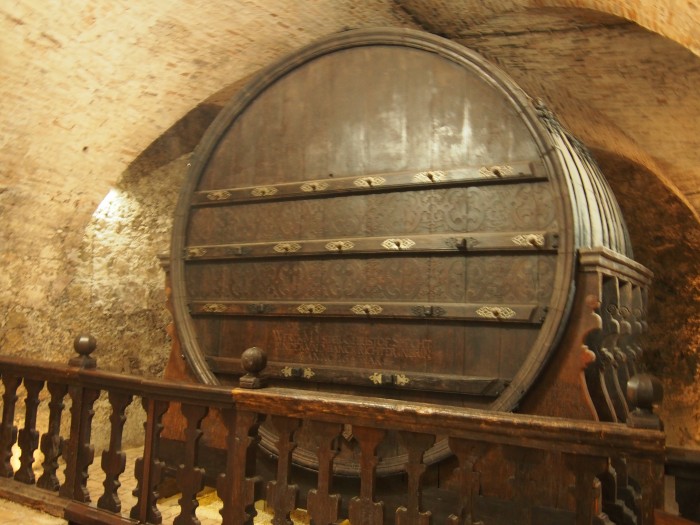 One of the attracting point is the large wine barrel. It's going to be larger than you guess by the photo. It's the largest in Czech, and fifth in Europe, with capacity of hundred thousands litres. So extremely huge amount of wines!
A guide told us a folklore; during "Thirty years war", Swedish army invaded Mikulov castle and found the wine barrel.They completed all in the barrel in 3days! Although the guide said it's a fairytale, I can believe it's true story.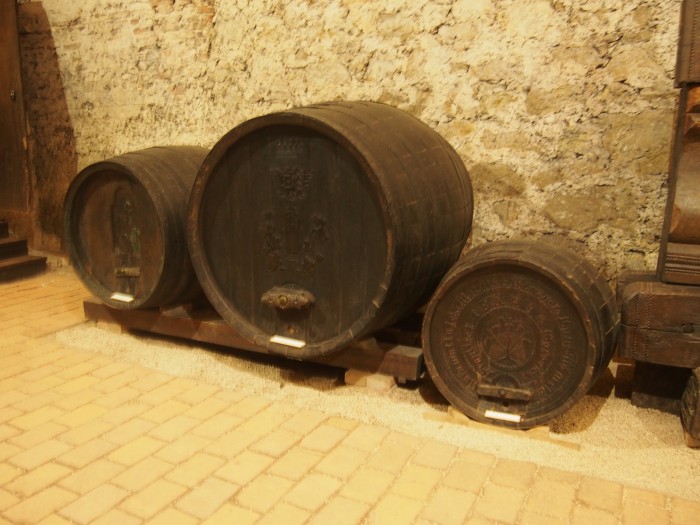 Wine in good barrel was paid to noble-people as the tax. Citizens could've bought wine from large barrels.
 the cemetery of House of Dietrichstein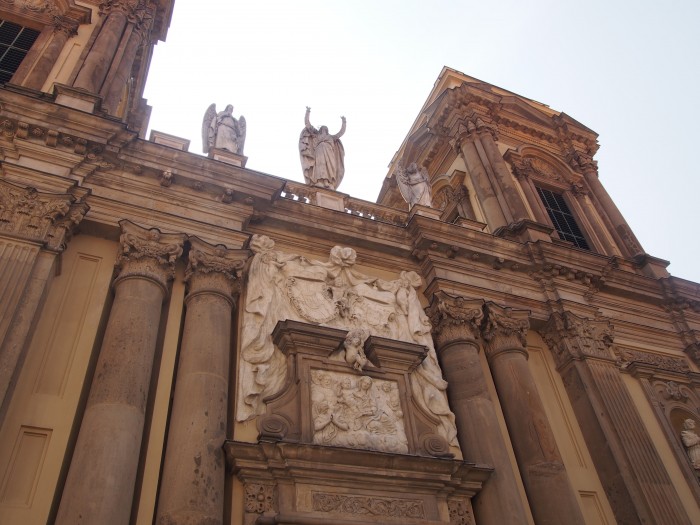 You can't miss this spot too, the cemetery of House of Dietrichstein. It contains a chapel and morgue.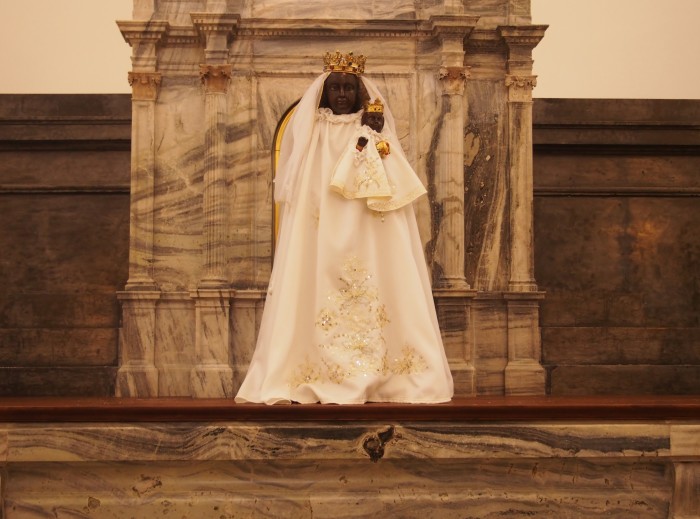 The chapel is pretty small in its size. The black Maria can't be ignored which has survived the fire in 17th century. In the chapel, concerts are held.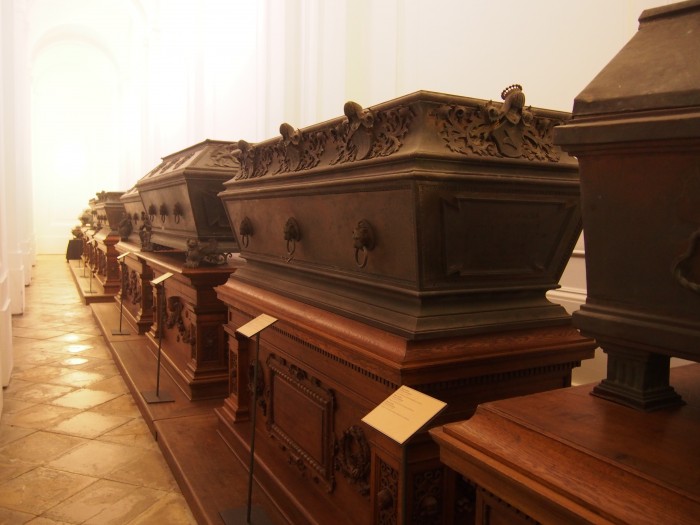 This room is morgue, where coffins of 44 Detrichsteins and 1 of their friends are resting. Although there're many coffins, is no air of horror.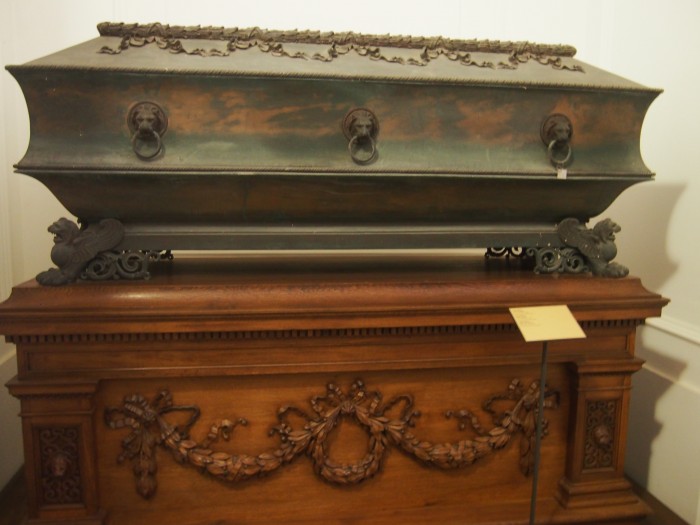 All coffins are solid, double layer with wooden or metallic second coffin inside.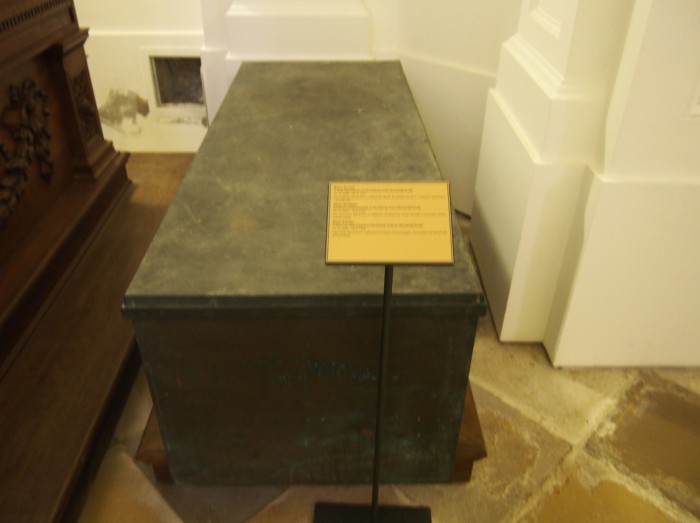 Here is a coffin that looks younger than others. Resting inside is a person who started resting in 1920. One of member of the family at the age of 85 hopes to rest here with other members in the future.
Molavia wines and Japanese people's taste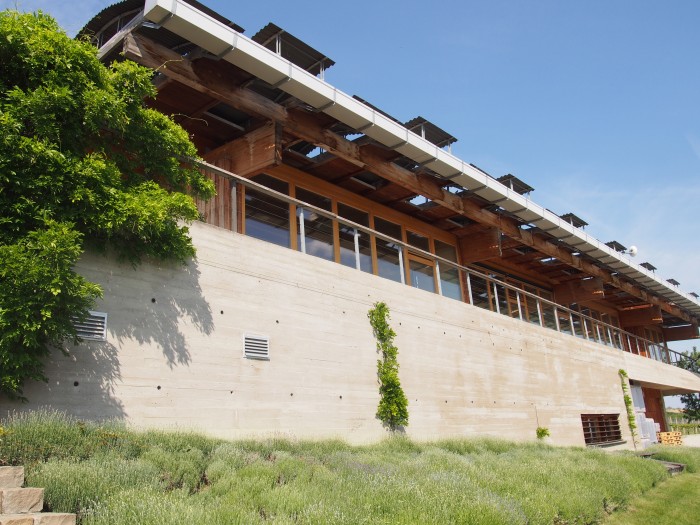 Mikulov locates in Molavian area that is popular in wine production. I visited ""Sonberk winery" that was prised in several contests.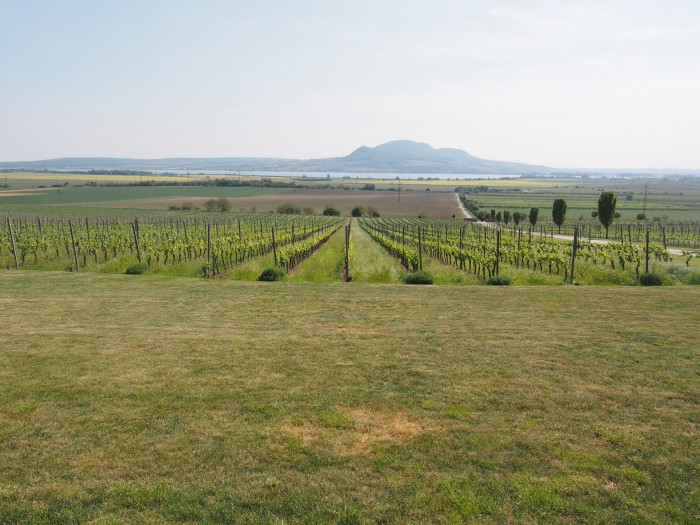 Wine production in the area of Moldavia started 800 years ago. According to a story,Maria Theresa really loved it. Wine product remains competitive today, with sweet climate comfortable for the production.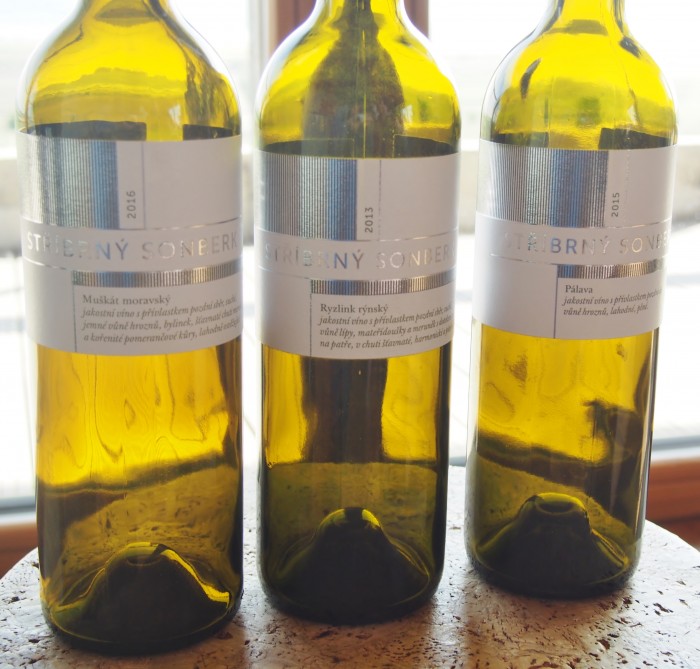 Trying three tastes of white wine (Muškát moravský、Ryzlink rýnský、Pálava). I think  all were attractive to people including beginners. Pálava was got well on my taste with lovely flavour, fresh attack and moderate body in its length.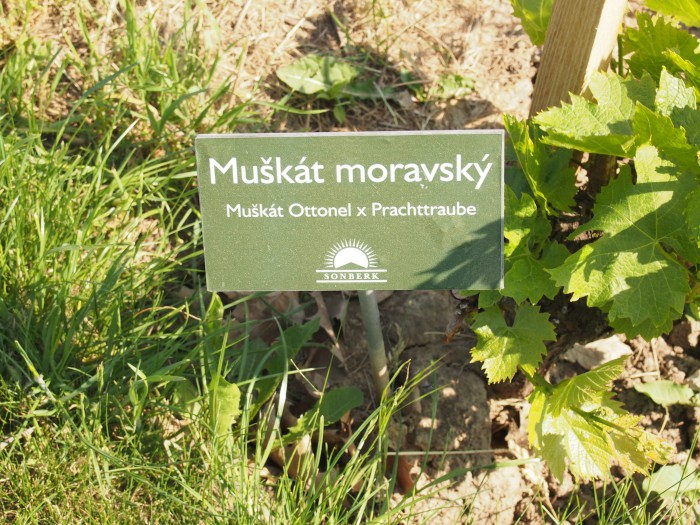 Wine production in Sonberk is based on the idea of harmony with the nature. I felt the idea when I saw some uncut weeds on vineyards. By the way, the stretch of Molavia, Slovakia and Hungary is hot spot for wine production. I recommend you to try and feel them.
Best for one-day trip from Vienna
It locates on good spot for one-day trip from Vienna, because it takes 2 hours with only one time of train transferring. Not like Vienna, you would feel smooth atmosphere and time passes slower. Little flavour on itinerary.
translated by Okamura Tasuya